Hasbro Pulse: Behind the Design with John W. (Part 1)
War for Cybertron: Siege - Omega Supreme
Welcome to the first edition of Hasbro Pulse: Behind the Design, where we talk to the product designers behind some of your favorite toys and collectibles. We sat down with the Transformers Senior Design Manager, John W., to get the scoop on the recently revealed War for Cybertron: Siege – Omega Supreme figure.
Hasbro Pulse:
This figure…pretty darn big. Exactly how big is this Omega Supreme?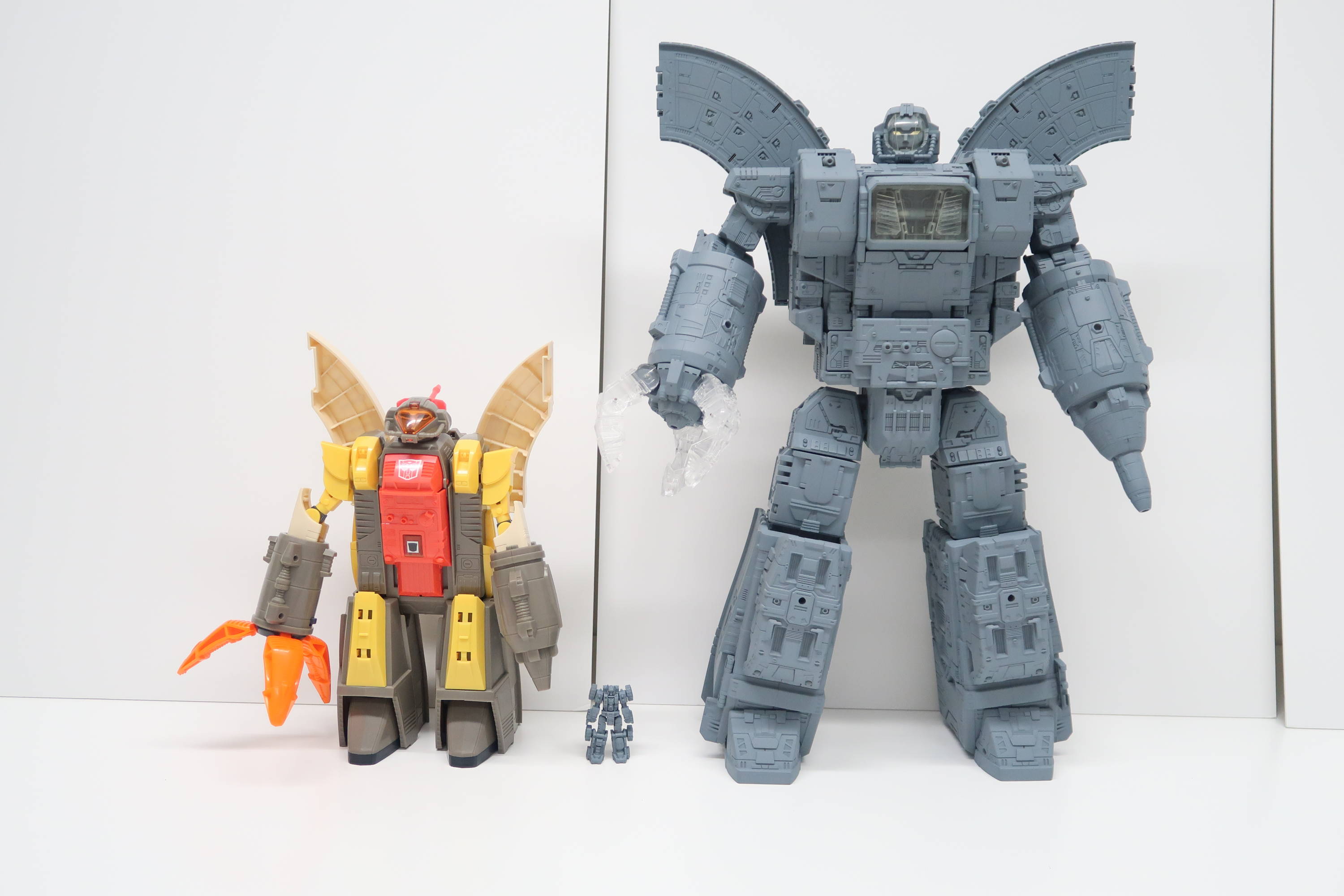 John:
He's approximately 2 feet tall. You really have to look at this character – a lot of people judge the height of the character by the head. For some fans, it will be up for debate, but we're saying he's about 2 feet tall and is the largest in the Siege toy line. What's interesting about a character like this is that not only is he big, but he has a solid feel to him, too. We've been listening to the fans and we're trying to eliminate some of those plastic voids.
Hasbro Pulse:
Before we go any further, I have to ask, does this Omega Supreme figure have waist articulation?
John:
He does, he definitely does. We get that question a lot! "He's cool, but does he have waist articulation?" It's funny how much the G1 toy design has influenced people's opinion. I remember as a kid this guy really throwing down in the cartoon, and he would bend at his waist, and could do all this different cool stuff. I remember playing with the G1 toy as a kid, and thinking to myself, "Wow…not only is it smaller than the cartoon, but it's definitely not moving like the cartoon." Fans of Siege know there's a lot of articulation we built into these figures, and we wanted to make sure that the Titan Class character also had the same level of articulation.
Hasbro Pulse:
I imagine with a figure so large, you're dealing with challenges you wouldn't otherwise see on smaller figures. What would you say was your biggest challenge when designing this figure?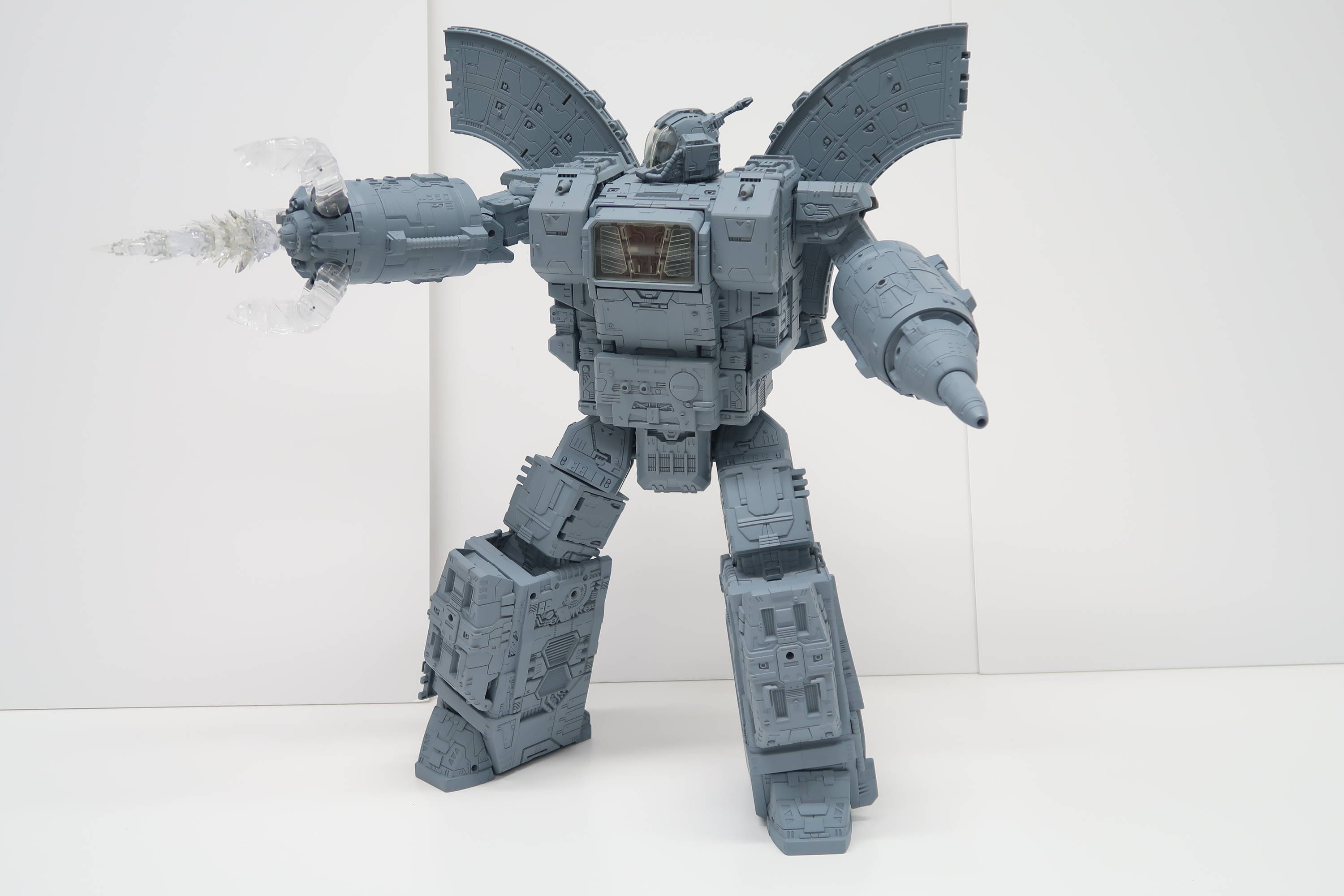 John:
Like all Transformers War for Cybertron: Siege toys, we partner with Takara Tomy – they are really the legends of converting from robot to vehicle or beast or whatever it is that these characters convert into. The experts at Takara Tomy presented a bunch of big challenges out of the gate. Our job at Hasbro is to carry that vision and communicate, "Here are some of the big things that we want out of the character," and give Takara Tomy a list of priorities. I think probably the biggest challenge out of the gate was we had a pretty darn big wish list for this character. Trying to get everything into a character this scale was a challenge. The hardest thing of all is really when you have a big character, like all Titan Class characters, you're dealing with the weight of the character and the physics of it – how do you retain poses and how do you allow the thing to convert? In the case of Omega Supreme, part of his conversion is that he (to use the parlance of Transformers fandom) is a parts-Transformer, so he actually breaks apart into a couple different pieces, like the 80s version did. Having the pieces connect in a robust way that still allows him to articulate to retain those cool poses was a huge challenge. So, in summary, we asked for the moon and we got a space station.
Hasbro Pulse:
You talked about this figure as a parts-Transformer and how he breaks into all these different parts. Can you walk us through all the parts that make up Omega Supreme?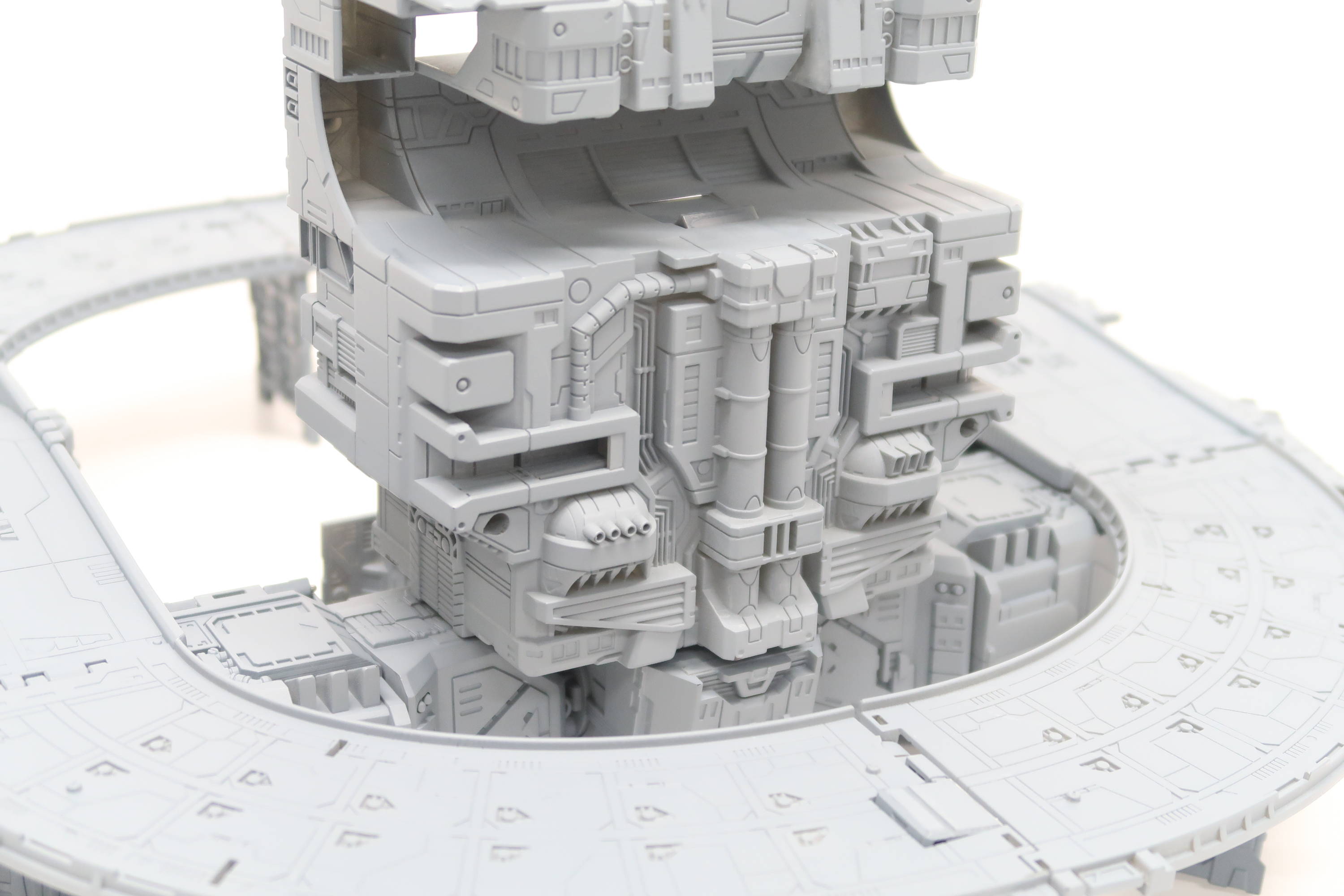 John:
First there is his robot mode that features a lot of G1 cues, like his movable hand that's so classic to Omega Supreme. He also has Fire Blasts – these little clear effects parts that we've been including across the line. Omega Supreme has special ones that compound onto each other and can be posed out in his hands or across his body by way of the 3mm port system to give a frozen-in-the-moment-of-battle effect for the big robot. When you break him down into his vehicle/base mode, he has a rocket base station with a track. We've elevated the track so it's more like a perimeter defense wall. And then, he of course has a tank that can fit on this track. It's not motorized, but we have allowed it to connect to that track and move around on it in a cool way, like a monorail does, hanging off the side a little bit.
Then we have this huge rocket. The rocket is really, really impressive. When you see it in person, it's a nice, fully detailed, very realistic-looking space-themed vehicle with an awesome cockpit up at the top. You can open that up and find all sorts of cool little sensor details on the inside and it perfectly fits the Micromaster Autobot Countdown figure. Omega Supreme is the only place you can get this Micromaster character. This is actually more of a throwback to the rocket base Micromaster set from the late 80s. Not to totally geek out on it, but the original Omega Supreme didn't come with a Micromaster, so this is a way for us to bring Micromasters into the whole experience of the Titan Class. This is what we usually do with our toy lines; we try to let the Titan Class guy epitomize whatever the ecosystem is for the year, like when we did Predaking. We put the Prime Master Onyx Prime figure in there just because it was part of the ecosystem of the Power of the Primes. And for Omega Supreme, the ecosystem is about weaponizing and armoring up with a combat system. It's also about these Micromasters so we're hoping fans are satisfied by being able to get not just a cool G1 character, but also something that becomes the pinnacle of their whole collection.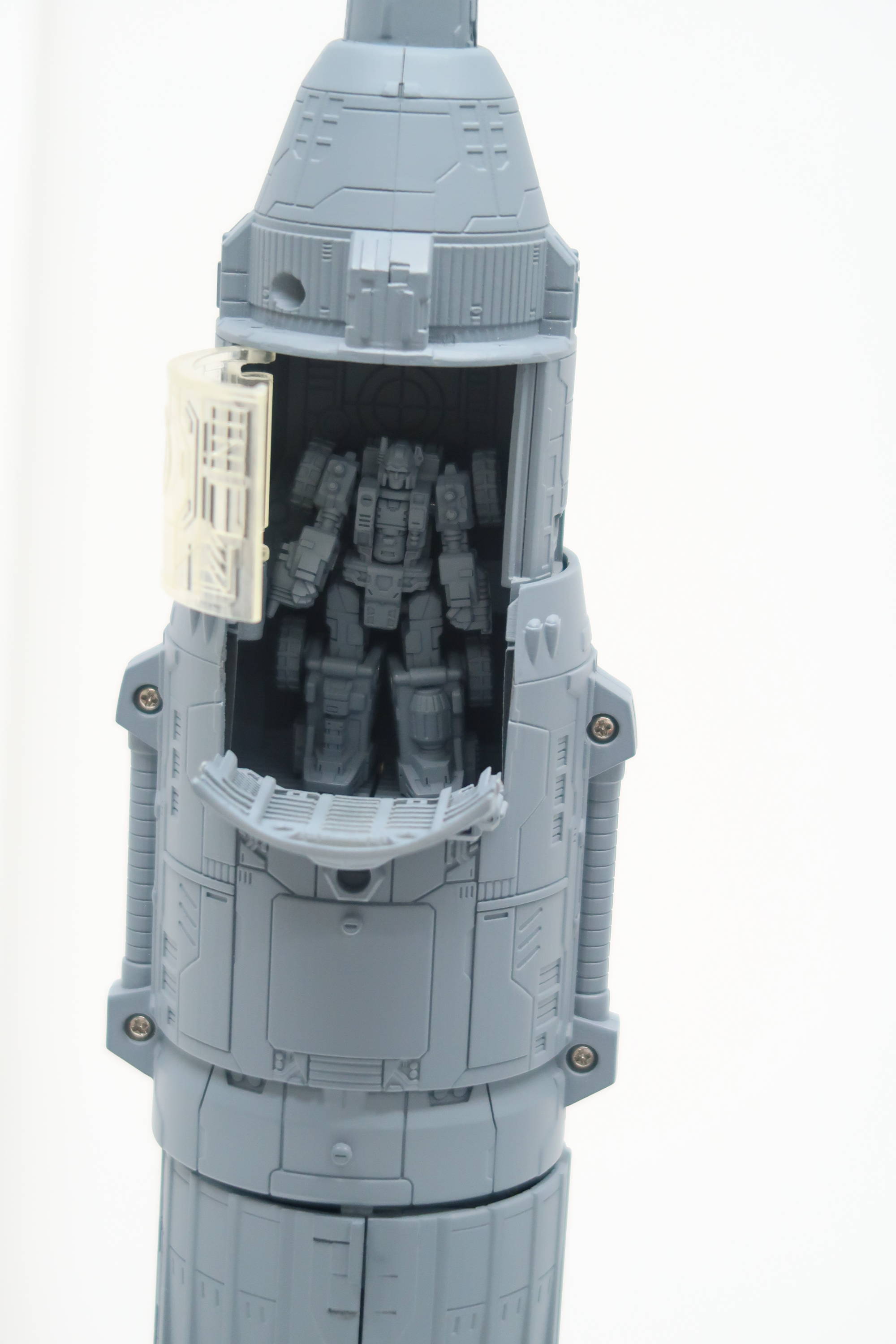 Hasbro Pulse:
What was your favorite part about this figure? Is there anything that you hope fans notice? Is there anything that you're like, THIS is the coolest part right here, this is it?
John:
I could geek out for a long time on this thing, but between Hasui-san at Takara Tomy and I, we really built in all sorts of little Easter eggs into this figure. I don't want to spoil them all here, but one of my favorite things about this figure is outside of the little canopy inside of the rocket for the Countdown figure, there are little hidden places to put your Micromaster figures across the whole thing. One of the challenges we faced by making this come apart into two different components to form the rocket base was that you got a lot of really unusual geometry in the rocket base part. You have these voids, you have a half cylinder piece going through the whole thing, and also a section where the tank fits inside of it. Even back in the 80s, this gantry tower kind of thing that came with Omega Supreme was kind of an afterthought.
Once you start to play with Omega Supreme, and you start to unfold all the pieces, you'll find that there are a lot of little details designed in the figure, and I'm only going to give away one secret: In the 80s, the tracks on the outside were in this round circle that went around the rocket base. We designed the track elements to connect in different ways, so if you were lucky enough to have multiple guardian robots, you could connect the tracks together and create a highway of sorts. The connection system that we're using on there is the same connection system we've used in the past on Fortress Maximus and I think even some of the Titans Return characters had them. So, if you're one of those people who has a huge collection of base-forming robots, you can start to connect them together.
This has been Hasbro Pulse: Behind the Design with John W. (Part 1). Check back next week for more on the recently released Omega Supreme figure!